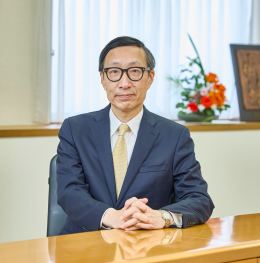 Under Japan's Basic Policy on Economic and Fiscal Management and Reform, 2017, the NHI drug pricing system will undergo drastic reform. The April 2018 NHI drug price revisions call for new mechanisms that have a significant effect on the whole pharmaceutical industry.

A premium has been introduced to promote new-drug creation and resolution of off-label use, evaluate new-drug innovation methods, and devise a new framework for calculating prices on long-listed drugs (original drugs with generic equivalents) and generics. While I believe the direction of the reforms is unavoidable, some worry that only National Health Insurance drug prices will bear the brunt of the reforms, making the industry future uncertain.

Since 2000, the Nippon Chemiphar Group has developed business under a management strategy focused on three principle goals: establishing a strong presence in the generics business; becoming a leader in the field of hyperuricemia, with a focus on Uralyt; and pursuing proprietary drug discovery and development.

Given the dizzying changes in the environment surrounding our industry in Japan, we augmented this strategy in 2015 with an additional goal: Plus 1, representing our expansion into overseas markets.

In addition to generic drugs, which are currently driving our earnings, in recent years we have begun to see results in the hyperuricemia market and in-house drug discovery. This should enable us to accomplish our three goals and further accelerate the Plus 1 initiatives.

To lower patient costs and reduce government healthcare expenditure—despite Japan's ever-changing economic and pharmaceutical industry environments— the Nippon Chemiphar Group will follow this growth strategy, to ensure that our contribution to society and business expansion are maintained.
We look forward to the continued suport of all our stakeholders in these endeavors.


Kazushiro Yamaguchi
President&CEO
Note:
* Hyperuricemia is a clinical condition in which the uric acid level in 1 deciliter of blood serum is over 7.0 milligrams. Without treatment, it may lead to gout, which causes severe pain, usually in the toe. In addition, hyperuricemia may lead to kidney impairment and urinary calculus, as well as hardened arteries, a condition related to cardiac infarction and stroke.