Generic Pharmaceuticals that People Can Trust
Stable Supply
Just as we do with our branded pharmaceuticals, we distribute generic pharmaceuticals solely through wholesalers. We have established a nationwide supply network that allows our products to be supplied promptly to hospitals and pharmacies.
Quality
The know-how accumulated through the development of original pharmaceuticals allows us to accurately evaluate the efficacy, safety and equivalence of generics, ensuring the production of generics people can trust.
Information
We pass on to doctors and pharmacists information gleaned during the development of generic pharmaceuticals, as well as analyze their feedback. We believe that providing product information is crucial to earning the trust of doctors, pharmacists and patients.
Support for DPC* Hospitals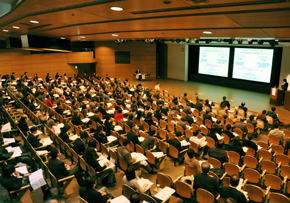 Parallel with the government's promotion of the Diagnosis Procedure Combination (DPC) system, we helped to establish a DPC Management Research Forum in 2005 and are supporting those hospitals earmarked to be DPC institutions.
Note:
* DPC sets a per diem hospitalization fee for acute patients.